The video below is all about pruning or pinching out tomato plants, in particular pinching out the side shoots of tomato plants.
If you want to know how to prune tomato plants, this is basically what you need to know.
In the video:
I explain what tomato plant side shoots are
I explain how cordon tomato plants grow and why you need to prune or pinch out the side shoots to ensure that your tomatoes will ripen and be of the best quality
I show where you can locate the side shoots on the tomato plant
I demonstrate how to pinch out and prune the tomato plant's side shoots
And I explain how you need to remain vigilant because the plants will keep sending out side shoots unless you stop it.
---
---
Transcript: How to pinch out tomato plants
This is a short video about pinching out tomatoes.
When I first started growing tomatoes, I read gardening books and watched gardening programmes and they always used to talk about pinching out tomatoes.
But it was never really clear to me what that meant.
So here is a simple demonstration and explanation for those people who are new to tomato growing and for whom pinching out tomatoes might still be something of a mystery.
Although, perhaps it was just me that didn't get it.
Anyway, the bottom line is pinching out tomato plants is just another way of describing how to prune tomato plants to get the best fruit from you plant.
So, this applies specifically to cordon tomatoes, which are tomatoes that grow long and tall and will continue to grow from the growing point at the top of the stem.
As long as you let them, they will just keep growing. And that's really the essence of what this is all about.
These kinds of tomatoes will continue to put on growth all through the growing season, which is good because it means you get big plants and potentially more tomatoes.
But, because for most people in most places in the world, there's a limit to the growing season, there are only so many tomatoes that are going to mature and ripen during the course of the season.
So what you need to do is to some extent limit the amount of growth that these cordon tomatoes put on.
And the way that you do that, once you've got, four to 6 trusses of tomatoes developing on the plant, is to stop the growing point. The growing point is the absolute top of the tomato plant where it is continuing to grow from.
You can just literally cut the top of the stem off, and that would stop the tomato plant from growing at that point.
It won't then grow any bigger and that allows the tomato to put all the energy that it draws up from the soil into maturing the existing fruits.
Pinching out tomato plants
The other point – and this is where we come back to pinching out tomato side shoots – is that tomatoes not only want to grow upwards like this one, but they also want to put on shoots coming out from the leaf axils – the point between the leaves and the stem.
So those shoots – the side shoots – would then develop into another whole stem, with a growing point from which more fruit trusses could develop. And these cordon tomatoes will try to do that in each of the leaf axils.
These are the shoots that you want to pinch out.
Because if you let them grow on, then they will again continue to take energy from what you're really trying to achieve, which is a reasonably limited number of good fruit trusses that can develop and give you your perfect tomatoes.
[Indicates side- shoot] So this is the point. It's these. These are the things you need to pinch out.
These are the side shoots, and pinching out is simple.
They will easily break off.
And you can see where I've done it previously.
Here you can see [indicates mark on stem] when I went on holiday and the side-shoot was allowed to develop for quite some time, so it became quite big.
But I could still cut that off and allow the tomato plant to develop along this line to this growing point at the top.
So that is the principal.
And the interesting thing about these about tomatoes is that they'll somehow find a way to keep putting out these side shoots.
There's one down here quite near the bottom of the plant that I think I probably may have pinched that one out before. But it's grown another side shoot and it's getting quite long.
So out it comes. I'll take that one out again.
So that leaves you with one clear line of growth up your plant. You may have a sort of cut off, a change of direction point like I've got here, but it's still one clear line going up to the top.
Even at the top there as a side shoot developing near the growing point. And technically, you could choose to leave that side shoot and take out the current growing and the plant would grow from the [side- shoot].
But I won't because this this main growing point has already developed a flower truss, and there's another one developing. So, we'll break this little one off there.
So there you: are pinching out tomatoes.
Pinch out your tomato plant side shoots to develop a single line of growth to ensure that you've got all the energy going into the fruit production, which is what you want.
What you might need for growing tomatoes
Bestseller No. 1
4 Pack Plant Support Tomato Cages for Garden, 18 Inches Small Tomato Cages and Supports with Adjustable Rings for Garden Pots, Plant Stakes Tomato Trellis Rings for Climbing Plants
【Small Tomato Cages】Set of 4 sturdy plant support cages and 1 pack 66ft garden twist tie, The Support sticks height 18 inches, inner diameter of 3 rings is 5.5 inch / 6.3 inch / 7.1 inch. Great for seedlings & starter plants. Note: mini tomato cages is Not suitable for large plants, please check the size before purchasing.
【Quality Material】This support sticks are made of durable steel with rust-resistant plastic coating, rust-proof and durable, high quality material will not be brittle and fade in the sun, with sharpened points on one side easy to insert into soil, durable and reusable.
【Multifunction Plant Support Cages】The tomato stakes designed for plants-support flowers and leaves growing, protect plants against strong wind, prevent plants from falling over or sprawling out, keep them upright, provide a healthy growing environment for your plants.
【Adjustable Design】With movable hooks, 3 hoops can be adjusted up and down left and right, the position of hoops and stakes is adjustable, sizes of 3 hoops are different, conform to practical growth principle, provide better support. Stackable for better storage and reuse.
【Widely Use】This plant cage is designed specifically for vertical climbing, continuous support throughout plant's growth. Great for small or medium size plants, like small tomato plants, cherry tomato, peony, rose, etc. It a good gardening helper for you.
Bestseller No. 2
Adjustable Tomato Cage Plant Support Cages 36 inches Garden Cucumber Trellis,Plant Stake with 4 Adjustable Ring, Support Rings for Vegetables,Flowers,Fruit,Rose Vine Climbing Plants (4 Pack )
🌑[Rustproof and Durable] Tomato and Plant support cage both the stakes and rings are made of metal material and wrapped in a high-quality plastic coating. Flexible plastic connectors. That make it rust-proof, the heat dissipation is good, does not hinder plant growth and entanglement, durable to use.
🌑[2-Sections Design Plant Stake] each section stake height about 18 inch, through the stake connectors, the height of the plant support cage can be extended to 36 inch.
🌑[Adjustable Plant Support Ring] The Max diameter of plant cage ring is approx.: 12 inch. Adjust the diameter of the ring by adjusting the accessories on the ring, and adjust the height of the ring on the stake by adjusting the ring and the connecting piece on the stake, that to meet your different needs.
🌑[Protect the Healthy Growth of Plants] No extra tools required, just simple assembly can complete the plant support cage to protect your flowers, and plants grow upright, keeping them healthy and strong. Promotes healthy growth and prevents falls that may cause damage to your plants.
🌑[Widely Use] These 4 pack green plant support cage great for tomato, vine plants, climbing plants, potted plants, garden, outdoor and indoor plants, etc.
Bestseller No. 3
2Pcs Plant Cages and Supports, Deaunbr Tomato Cage 6FT Tall Plant Stakes Heavy Duty Garden Trellis for Indoor & Outdoor Plants, Climbing Plant, Tomatoes, Vegetables, Fruits, Flowers, Pots, Vines
🍅【Tips】 Some people said that the bracket is not stable after installation, it is because of the wrong installation. Please note that the dimensions of the four sticks at the bottom of the climbing frame are different. The two sticks on the outside are 43cm/16.9inch, and the two sticks on the inside are 42cm/16.5inch. 🍅【 Size of Plant Cages & Supports】Length 5.8FT/ 176cm, diameter 10.6 inch/ 27cm and total 2 sets.
🍒【Easy to Assemble】 The structure of plant stakes are adjustable, help satisfy specific support need of plants. According to different plant types and growth cycles, you can assemble plant supports of a satisfactory height.
🌷 【Strong & Durable】Inside each stake is durable steel core. The outside of stakes are thick plastic coating. Fashionable iron art, not afraid of sun and rain, no deformation, no rust and long service life.
🍇 【Ingenious Design】These garden arch trellis help keep ties in place, are also sealed at the tips to ensure they are easy to drive into most garden soils.
🌿 【Multiple Uses】Our garden cages can help the growth of tomatoes, jasmine, beans, roses, ivy, morning glory, black berry and more. Its ergonomic design ensures that your plant's fruit and leaves won't weigh down the stems.
Bestseller No. 4
Bestseller No. 5
4 Pack Tomato Cage Plant Support Cages for Garden, 18 inches Trellis for Climbing Plants, Upgrade Garden Plant Stakes with Adjustable Ring, Tomato Rings for Support, with Twist Tie
【2022 NEW TOMATO CAGES SET】Each package contains 4 sturdy plant support cages and 1 garden twist tie.Support sticks height: 18 inches, 3 adjustable rings diameter: 5.5 inch / 6.3 inch / 7.1 inch.Perfect size for seedlings & starter plants.
【UPDATED VERSATILE PLANT SUPPORTS】The plant support cages designed for Plants-support flowers and leaves growing, prevent plants from falling over or sprawling out, keep them upright and elegant, conveniently to keep your plants growing healthily. Triangle structure is very stable.
【ADJUSTABLE DESIGN, EASY TO USE】 The plant supports are easy to use, adjust 3 rings to a suitable position, and then use rope or wire to fix the position of the ring. Sizes of 3 hoops are different, conform to practical growth principle, provide better support. Stackable for better storage and reuse.
【PREMIUM RUSTPROOF MATERIAL】Vine trellis support are built a very strong plastic coated steel pile that are much stronger, tougher, and more durable than the thin wire plant cages available.Our plant supports are rustproof and with sharpened points on one side for ease of penetrating into the soil.We suggest that you insert 4 inches into the soil.
【WIDELY USE】This plant cage is designed specifically for vertical climbing, plenty of open areas for easy pruning and picking, continuous support throughout plant's growth. Great for small or medium size plants, like tomato, flowers, pepers,etc. Note: Not fit for large plants, PLEASE DOUBLE CHECK THE MEASUREMENT.
Last update on 2023-02-25 / Affiliate links / Images from Amazon Product Advertising API
Sale
Bestseller No. 1
Miracle-Gro Shake 'N Feed Tomato, Fruit & Vegetable Plant Food, Plant Fertilizer, 4.5 lbs.
Contains natural ingredients to feed microbes in the soil
Specially formulated with micronutrients to help plants grow strong and produce more fruits and vegetables versus unfed plants
Feeds up to 3 months
Calcium helps form stronger cell walls, producing better quality and longer-lasting fruits and vegetables. Plus, it helps prevent disorders in edible crops commonly associated with calcium deficiency.
For use in ground and in containers
Bestseller No. 2
Sale
Bestseller No. 3
Jobe's Organics 09026 Fertilizer, 4 lb
Organic granular fertilizer; Fast acting fertilizer for vegetables and tomatoes for a more abundant harvest
OMRI listed for organic gardening by USDA; Certified organic means no synthetic chemicals
Contains Jobe Biozome; Extremely aggressive proprietary microorganism archaea that aggressively breaks down material for faster results
Jobe's Biozome improves soil conditions; Helps your garden resist disease, insects, drought and other unfavorable conditions within a growing season
Easy pour bag; Fertilizer analysis: (2-5-3) 1.5 pound resealable bag, (2-5-3) 4 pound bag, (2-5-3) 16 pound bag
Bestseller No. 4
Bestseller No. 5
Last update on 2023-02-25 / Affiliate links / Images from Amazon Product Advertising API
What you might need for growing tomatoes – UK Buyers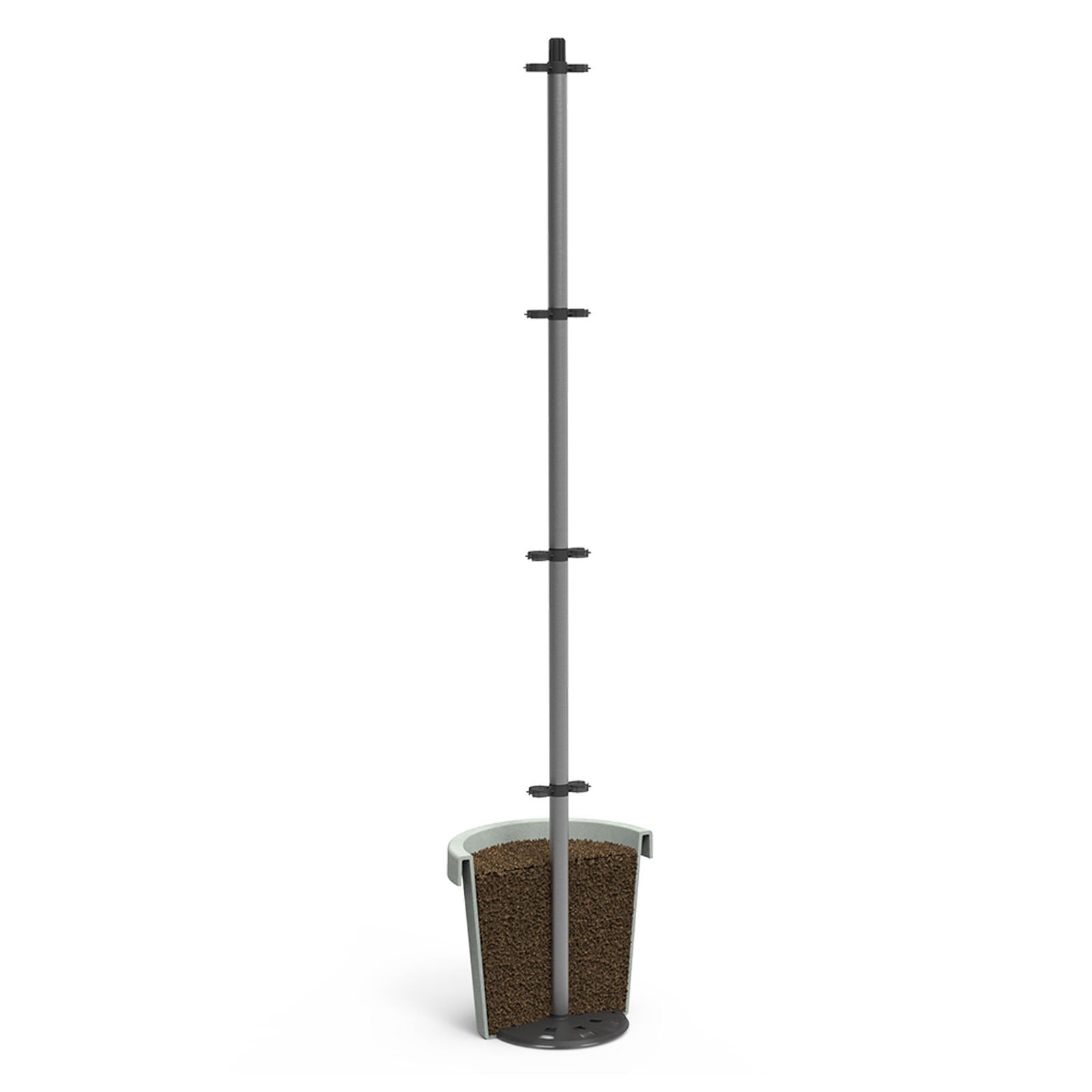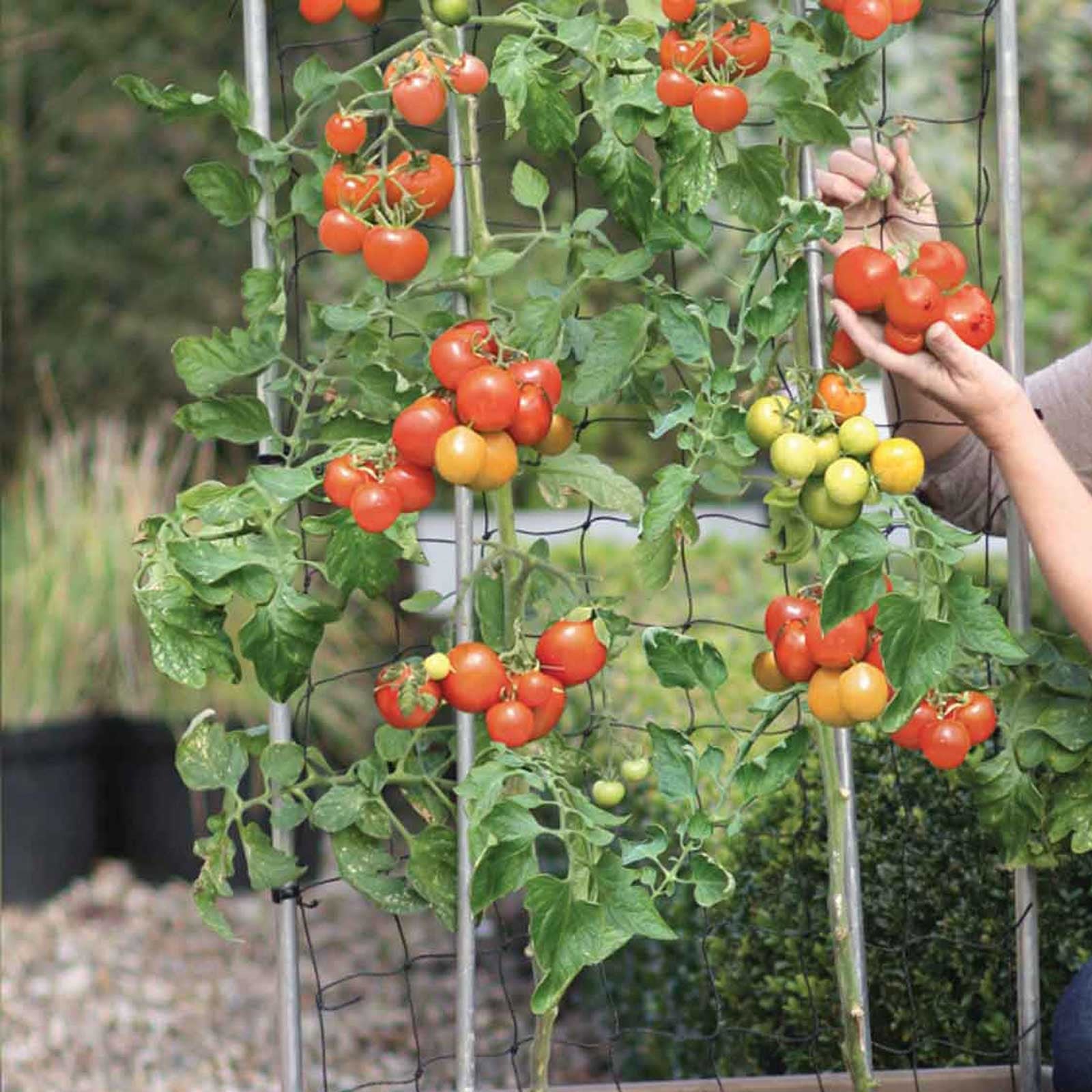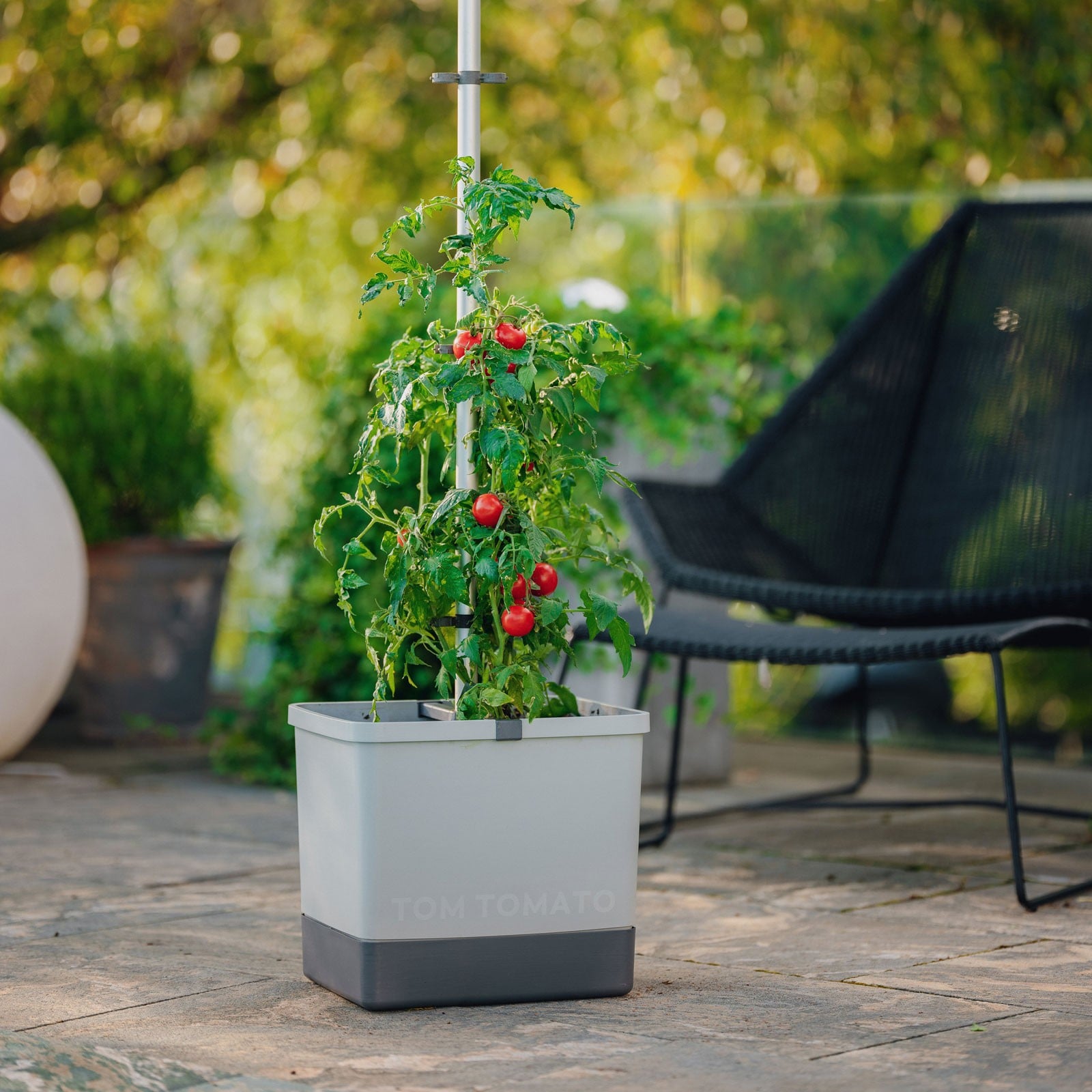 Learn more about growing vegetables
Check out these posts for more on growing your edible plants:
How to grow zucchini – this is the ultimate guide to growing this delicious squash.
How to get the best from your basil.
How to prick you tour tomato seedlings.
Here is what to do if your tomatoes are not ripening and turning red.
How far apart to plant tomato plants
More on growing tomatoes
Martin Cole has been an avid gardener for more than 20 years and loves to talk and write about gardening. In 2006 he was a finalist in the BBC Gardener of the Year competition.
He previously lived in London and Sydney, Australia, where he took a diploma course in Horticultural studies and is now based in North Berwick in Scotland. He founded GardeningStepbyStep.com in 2012. The website is aimed at everybody who has been bitten by the gardening bug and wants to know more.
Gardening Step by Step has been cited by Thompson and Morgan, the UK's  largest mail order plant retailer, as a website that publishes expert gardening content.
Love Dahlias?
I've written the book on them
Check out my comprehensive step by step guide, with plain language explanations and ultra-useful images and illustrations. This is for you if you love dahlias and want to the best out of the dahlias you grow.
Join Us! Subscribe to the Gardening Step by Step Newsletter
Sign up below to receive the latest gardening tips and updates*