In the picture above you'll see some dahlias in a traditional mixed garden borders. But how else can we grows dahlias?
You can certainly grow dahlias in pots. But can you grow dahlias in raised beds?
The simple answer to that question is yes – not only can you grow dahlias in raised beds, it is often a good idea to to do so. The pros and cons and other considerations are set out below.
Considerations when growing dahlias in raised beds
Raised beds are enclosed garden beds, that can be constructed from various materials, and which raise the soil level above that of the surrounding garden.  
There are several advantages to using raised beds which we outline below. Generally these advantages will work in your favour when growing dahlias in raised beds.
However, raised beds are typically used in the vegetable garden and may not always as attractive as a natural garden bed. So you will need to be happy that using raised beds for growing your dahlia plants is going to work in the overall scheme of your garden.
If you want to plant dahlias in amongst your other annual and perennial plants for a more naturalistic display, then raised beds probably won't work appeal to you.
However, if you are growing dahlias for cut flowers, for exhibition of your blooms or the raised bed design just works for you, then raised beds are good solution for planting and growing dahlias.
Of course, some raised beds can be very attractive and fit beautifully in to a garden design, like the example below.
Advantages of growing dahlias in raised beds
Here are the main advantages of using raised bed for planting out your dahlia tubers and growing dahlia plants.
Positioning
You can position raised beds where it is convenient for you to grow your plants.  If raised beds are deep enough, you can even position them on concrete or other solid surfaces, or on compacted areas of open soil.
Dahlias generally require warmth and full sun in the growing season. You can therefore position your raised beds to take advantage of the sunniest position available. 
However, although they love a sunny position, dahlias can be damaged by extremely hot, harsh afternoon sun. If that could be a concern where you garden, you could also position your raised beds where they will receive a little bit of afternoon shade.
Incidentally, if shade is needed, the structure of raised beds means that it is usually easy to fix supports to them. This will allow you to drape temporary shade netting over you dahlia plants when required.
Managing the soil
When you construct raised beds you need to fill them with soil. When you do so, you can make sure that you add lots of organic matter to help create a good soil structure for growing dahlias in. For this you can use home made garden compost,  soil conditioners, mushroom composts or potting mixes.
Dahlias put on lots of growth in a short period of time in the growing season. So, once the dahlia tubers begin to shoot and come into growth, you need to provide the essential elements of nutrition that the plants need. This is managed more easily in the confines of a raised bed dedicated to growing dahlias than in a mixed garden bed.
The structure of raised beds also means that it easier to prevent soil compaction because there is less chance of people (especially children) walking across the soil.
Better drainage
The elevated nature of raised beds means that they are inherently well drained.  What is more, if you have deep raised beds you can fill the bottom of the beds with material such as rocks, off cut branches and sharp sand which will aid drainage even more. 
All of this matters when growing dahlias because dahlias will not thrive if they sit in waterlogged soil. This is especially important if you are overwintering your dahlia tubers in position, rather than digging them up. Dahlia tubers are likely to rot if the soil is waterlogged in winter, even if temperatures do not fall far enough for frost to kill them.
Warmer soil
The soil in raised beds will usually warm up more quickly in Spring than the  garden soil in ordinary beds.  This can be an advantage when planting out your dahlias as they will be encouraged to grown on more strongly in a warmer environment.
However, this doesn't mean you should bring planting time forward if there is still a danger of frost that will cut down early growth. There is more about growing zones and plant hardiness in this post.
Better root run
Raised beds, especially with plenty of compost or other organic matter incorporated into the soil, can give your dahlias more room to grown their roots down into the soil.
A bigger 'growing zone' under the spoil surface allows for the tubers to develop strong feeder and tuberous roots. This means the plant has more capacity to take up nutrients and water.
Easier staking
Larger dahlia varieties need staking. Dahlias grown in rows in raised beds can be self-supporting to some extent. But, it is usually a simple job – at least with wooden raised beds –  to attach stakes to the edges of your beds, onto which you can attach netting or twine to support your dahlia plants.
Disadvantages of growing dahlias in raised beds
With some of the advantages of growing dahlias in raised, there are a couple of corresponding disadvantages.
Watering
We have seen that raised beds have better drainage, which is generally a good thing as far as dahlias are concerned. However, this can also mean that the soil in raised beds can dry out more quickly than the soil in surrounding garden beds. Dahlias do need a fair bit of water to be able to grow as vigorously as they do. Therefore, in order to keep the soil moist, you are likely to have to water your dahlias a little bit more frequently than you would if they were in garden beds.
However, you can give your dahlia plants some protection your plants from drought by planting the tubers deep – 5 inches ( 12.5cm) or more below the surface. This can be effective, especially given the deeper root run that raised beds can provide.
Another option is to install a drip irrigation system to help ensure a sufficient water is getting to your plants on a permanent basis.
Raindrip R560DP Automatic Drip Irrigation Watering Kit with Timer for Containers and Hanging Baskets, Waters up to 20 Plants, Includes Timer with Customizable Settings and 20 PC Drippers,Black
SAVE TIME AND EFFORT: This plant watering kit has everything you need to get started with drip irrigation and precisely water up to twenty individual plants; Use the kit to build, expand, or repair a drip irrigation system
INSTALL IN 3 EASY STEPS: 1) Connect timer and tubing to water source; 2) Lay out tubing; 3) Use fittings to attach drippers; Customizable system for your garden's potted plants, hanging baskets, or planter beds
IDEAL FOR ANY LEVEL GARDENER: Easy to customize, install, and operate; Kits contain all the components you need to set up your own drip system; schedule timer for worry-free watering
EASY TO CONNECT: screw threaded ends together; push barbed ends on fittings and emitters into tubing opening
KIT INCLUDES: Water timer, 75 ft. of 1/4 in. supply tubing with 3/4 in. FHT adapter, 20 PC drippers, tubing hold-down clamps, barbed couplings, elbows, and tees
Last update on 2023-11-28 / Affiliate links / Images from Amazon Product Advertising API
Frost
Raised beds can also be more exposed to the elements and more susceptible to frost that ordinary garden beds.  
The amount of frost and the temperatures you get where you live will have a bearing on whether you decide to lift your tubers in winter or leave them in the ground. But late frosts can be a problem in knocking back the growth of your dahlia plants in Spring. So it is important to take care about when you plant out your dahlias each year.
Best soil for dahlias in raised beds
Dahlias generally grow in most soils, as long as they are free draining so that the tubers do not get waterlogged. Soil with a ph of around 6.5 to 7 is ideal.
As indicated above, adding a good proportion of organic matter to the raised bed is probably the best thing you can do for the soil.
Organic matter is important for keeping the soil healthy and encouraging the micro flora and fauna that keep the soil alive. Organic matter also provides nutrients to the soil, stops the soil becoming compacted and helps with drainage.
Using raised beds enables you to more easily combine organic matter with the top soil in your beds. If you can have 20 to 30% organic matter to 70 to 80% top soil, then you shouldn't go far wrong.
How to plant dahlias in raised beds
As noted above, make sure you have prepared the soil well with plenty of organic matter before you plant your dahlias.
If planting tubers, plant them about 5 inches or so below the soil surface. If planting out a potted dahlia, plant it so that the final soil level on the plant is the same as it is in the pot.
You should look to space your dahlia plants about 18 inches (45cm) apart.  Think about the varieties you are growing in one raised. If you are growing dahlia varieties of different sizes, make sure that they are not oriented so that the larger varieties block the sun from the smaller varieties.
Types of raised beds
As the pictures below, show there are lots of different types of raised beds. They can be made from wood, metal brick or even concrete. You can make them yourself, buy them in kits or get the ready made.
I recently made the raised beds below from a kit. This picture was taken in the middle of construction. As you can see, these are a very simple design consisting of two 2.4m long sides and two 1.2m long sides. Frankly, I could have probably saved myself money by buying the timber and getting it cut to length at the local timber yard. But, in any case, these are a good sturdy solution and will last a long time.
Below is a nice rustic wooden raised bed arrangement, which works nicely with the brick set paving. Although there are no dahlias in this bed, it does show how you can effectively combine edible plants, like tomatoes and lettuces, with ornamental plants like nasturtiums and daylillies (Hemorocallis).
The arrangement below is a good example of raised beds used in a contemporary design. Dahlias, like Dahlia 'Wizard of Oz' would not be out of place in this display.
The image below shows the typical use of different kinds of raised beds in the vegetable garden or allotment. This beautiful space sits on the banks of the River Tay in Dunkeld, Perthshire, Scotland.
Raised beds to buy – US buyers
Sale
Land Guard Galvanized Raised Garden Bed Kit, Galvanized Planter Garden Boxes Outdoor, Oval Large Metal for Vegetables………
Each raised metal garden bed size: 4×2×1ft ,7.14Cu
Upgraded quality and structure: raised garden beds outdoor are made of Q195 galvanized metal sheet, double-layer anti-corrosion galvanizing and oval structure design, which is more beautiful, can withstand greater pressure at the interface, is not easy to loose, and the interface will not Deformed and can be reused for many years.
Easy to set up, this galvanized stock tank only takes about 5 minutes to easily assemble and continue planting plants.
Open base: This planter raised garden bed metal galvanized is designed with an open base, which can effectively avoid water accumulation and decay, protect the roots of plants, and allow the roots to better absorb nutrients
Double thickness: The average thickness of this galvanized planter galvanized sheet reaches 0.78mm, and the thickest part can reach 1.56mm, which is extremely stable. Compared with the ordinary rectangular elevated garden bed with a thickness of 0.3mm, it will be the right choice for you. buy it! ! !
Veezyo Galvanized Raised Garden Bed Kit – Metal Raised Planter 2 Pack 6'x3'x1′ for Flowers Plants, Vegetables Herb
🍓2 Pack Large Size: Each package includes 2pcs 6'(L)x3'(W)x1'(H) raised garden beds. It can be used as 12'x3'x1′ or 12'x6'x1′ raised beds which provides a wide planting area. 17 cubic feet planting soil is needed for each 3'x6x'1′ raised garden bed.
🍇Easy Assembly: Detailed Instruction Manual is provided. It can be assembled by a single adult quickly .
🍅Great Durability: Made of anti-rust galvanized steel with great durability and a long lifetime.
🍋Environment-Friendly: Built with an open bottom so it keeps the plants away from root rotting and water builtup.
🍏Sturdy Construction: 4 supporting bars are provided to connect the middle part of the two long sides. It makes the raised bed sturdy.
Best Choice Products 8x2ft Outdoor Wooden Raised Garden Bed Planter for Vegetables, Grass, Lawn, Yard – Natural
BUILT TO LAST: Made of natural Chinese Fir wood to provide a gardening solution constructed to last through every season without discoloring or breaking down over the years
EASY ASSEMBLY: Pre-sanded panels built with dovetail joints slide together and lock in place with screw-fastened posts for a quick, sturdy assembly
MAXIMIZE SPACE: 8-foot garden bed provides ample space for plants to grow with an included liner to separate the wood from the soil and keep it in excellent condition
GARDEN ORGANIZER: Separate and sort various types of plants, vegetables, fruits, and flowers with the included middle divider
OUTDOOR ACCENT: Perfect decoration accessory that will complement any front or backyard, grass area, or budding garden; OVERALL DIMENSIONS: 96″(L) x 24″(W) x 10″(H)
Best Choice Products 8x4x2ft Outdoor Metal Raised Garden Bed, Deep Root Planter Box for Vegetables, Flowers, Herbs, and Succulents w/ 478 Gallon Capacity – Gray
2FT GROWING DEPTH: 24 inches of depth holds up to 478 gallons of soil-ideal for medium to deep rooting plants and vegetables like broccoli, beans, and more. Note: This product does not include a bottom panel
IDEAL COMPOST BED: An open base combined with ribbed steel makes this the perfect space to layer yard waste, food scraps, and other additives to create enriched soil at home
TOOL-FREE ASSEMBLY: Beveled steel panels come together with a set of included wingnuts and bolts with rubber edging for your added protection
BUILT TO LAST: Made of powder-coated steel panels, with a non-corrosive finish, four ground stakes, and three stabilizing rods to keep your garden bed looking its best
64 CUBIC FEET: The large planting space makes this the ideal place to set up a self-contained micro-environment for unique and non-native plants; OVERALL DIMENSIONS: 96″(L) x 48″(W) x 24″(H)
Last update on 2023-11-28 / Affiliate links / Images from Amazon Product Advertising API
Raised beds to buy – UK buyers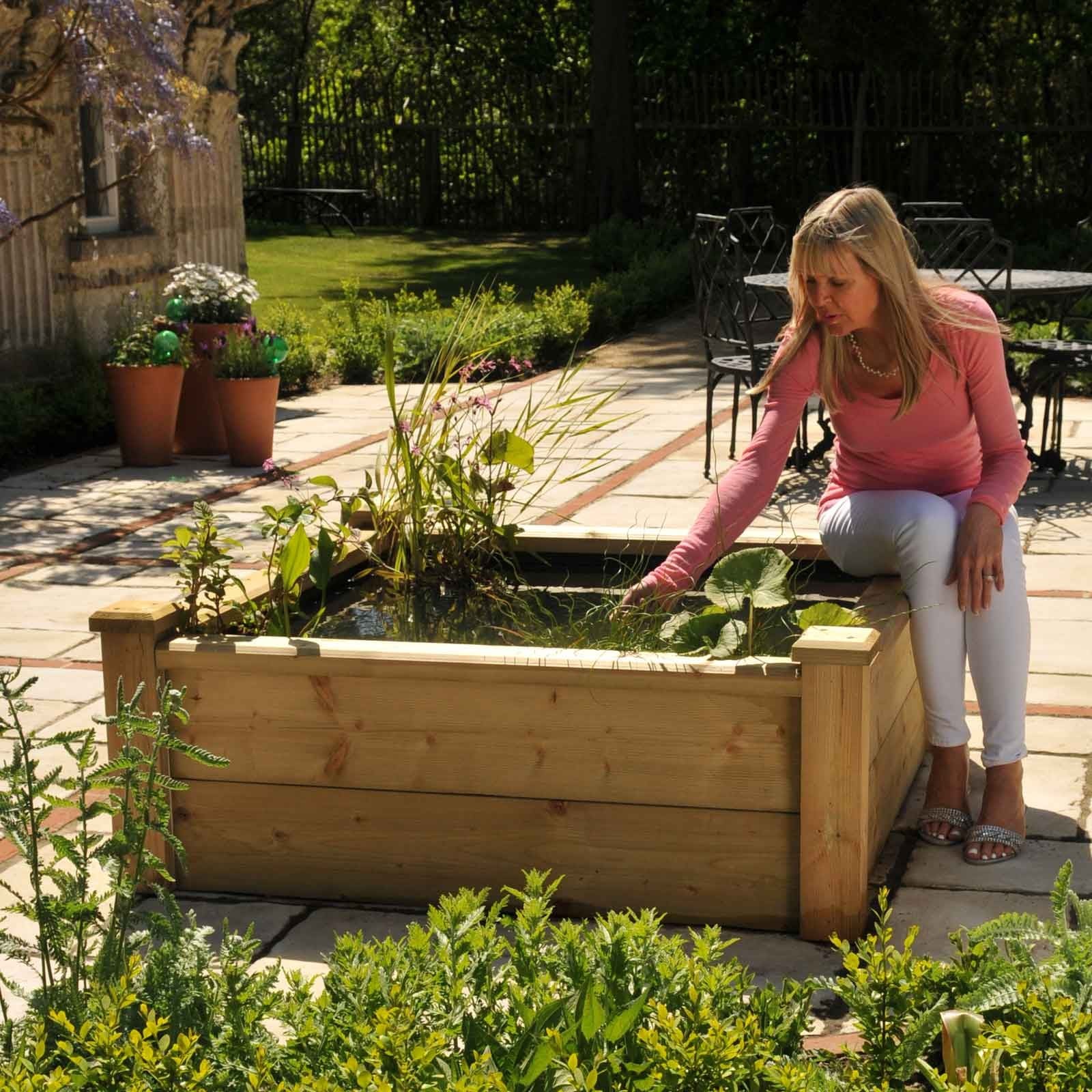 More on Growing Dahlias
Martin Cole has been an avid gardener for more than 20 years and loves to talk and write about gardening. In 2006 he was a finalist in the BBC Gardener of the Year competition. He is a member of the National dahlia Society.
He previously lived in London and Sydney, Australia, where he took a diploma course in Horticultural studies and is now based in North Berwick in Scotland. He founded GardeningStepbyStep.com in 2012. The website is aimed at everybody who has been bitten by the gardening bug and wants to know more.
Gardening Step by Step has been cited by Thompson and Morgan, the UK's  largest mail order plant retailer, as a website that publishes expert gardening content.
Love Dahlias?
I've written the book on them
Check out my comprehensive step by step guide, with plain language explanations and ultra-useful images and illustrations. This is for you if you love dahlias and want to the best out of the dahlias you grow.
Join Us! Subscribe to the Gardening Step by Step Newsletter
Sign up below to receive the latest gardening tips and updates*